My very first semester in college, where better to spend it than in Europe? My days attending classes in the heart of España, were only my work days, but my weekends were spent discovering the rest of the country and continent while crossing off 12 items, trying new things.
From my first week in Madrid, I was already making advances on my bucket list. I finally saw the glass palace, and I must say, it needs a window washer. In the pictures I'd seen it was shiny and there was always rainbows created with the sunlight, but in person it was kind of a murky, well-architectured greenhouse. It was a great sight nonetheless and I only lived about a 15 minute walk from it. I never knew it was located in Parque de Retiro, but I'm glad it was because the park was an even better discovery that the small palace itself. Anyway, roughly a month after finding el Palacio de Cristal, I took a cooking class with the school. I learned to make Paella, Gaspacho, a tart, and my personal favorite: a tortilla Española. I tried making the tortilla when I got home; it looked perfect but taste was a different story. The instructions our teacher gave were as vague as they could be, so my potatoes were under-cooked and my tortilla was kinda hard on the inside as a result.
Cooking that Friday was great of course, but the real excitement came later that weekend on the first Discovery trip of the semester to Andalucía. The south of Spain is filled with amazing sights and breathtaking Muslim architecture from the 15th century and before. The highlight and summation of the amazing architecture and artwork was of course the Alhambra in Granada. The amount of detail that went into every ceiling, every wall, every floor, was amazing. The amount of mathematical perfection in the rooms are breath-taking and awe-some (in the original context of the word).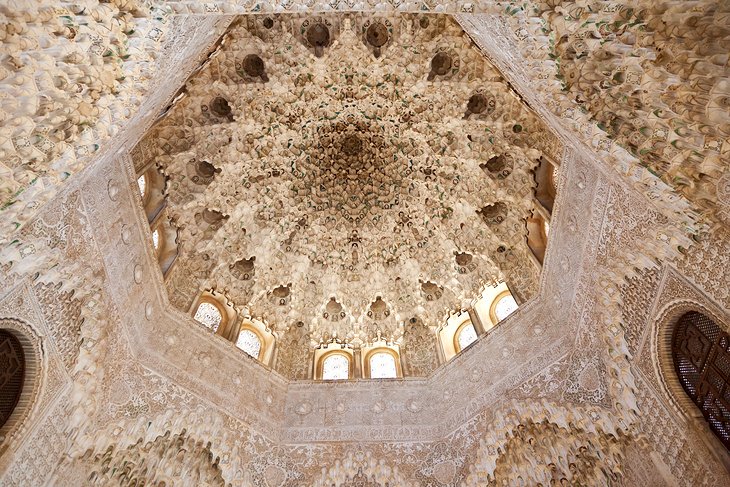 My next bucket list item was crossed of just 3 weeks after my Andalucía trip. I flew to Scandinavia for the first time with a friend, and a new acquaintance. We planned to spend the weekend in København (Copenhagen), Denmark. Of course, on the must-see list was Nyhavn simply because those multi-colored houses with the boats in front of them is the one picture that you see most often when you google Copenhagen.
Then, the next thing was Hans Christian Anderson's museum because the most famous author from the town wrote many stories that were not exactly for children, but were turned into children's stories. One of the most famous being Disney's The Little Mermaid. That brings me to my next must-see attraction: the Little Mermaid statue. Its a very old, very small, very basic looking piece of art. Reminded me a bit of the Mona Lisa feeling from my Spring 2013 trip. Anyway, it was still something tourists go to see which means I had to see it too. I dragged Layla and Rosaly with me hours before we left Denmark. I took my pictures to share on snapchat so my friends/family could see, and I sat on a rock not too far away with Layla and put on the song "Part of Your World" from the Little Mermaid. It was great; we listened and sang along to the Disney song that was the reason we came to see the statue in the first place.
My next trip, 2 weekends later, lead me to crossing off 6 items! I was a little bit mischievous in this particular case. I, being the curious traveler I am, started looking into long weekends for the fall semester during the summer. I found a four-day weekend in November an looked for trips on google flights just to mess around. But then I saw it. A round-trip flight to London. Only 71

€. I looked into it and on an impulse I bought it. I paid a little extra to choose window seats to and from, as well as for

€. I looked into it and on an impulse I bought it. I paid a little extra to choose window seats to and from, as well as for insurance just in case I didn't end up going through with it. I ended up paying $113 for the round-trip airfare. My first trip by myself! but I couldn't tell

insurance just in case I didn't end up going through with it. I ended up paying $113 for the round-trip airfare. My first trip by myself! but I couldn't tell

my aunt or anyone because they would be worried and want me to cancel. So time went on, I was in Madrid and my aunt was visiting. I told her about the Denmark trip I booked with a friend. Then I mentioned a trip to the Canaries, and she told me to book it. So I saw she was on board with the travel, so I waited until the Denmark trip to say that Layla asked me to go to London with her in 2 weeks. My aunt said it sounded like a good idea and said I should do it. Technically, I had convinced Layla to go that same weekend, but we weren't going together; but my aunt didn't need to know that. So I did it, I planned my activities, my sleeping arrangements, and everything. I went on my weekend trip all by myself, it was absolutely the hardest and most terrible experiences and I won't go into why, but at least I did it. I earned some travel stripes that weekend.

I saw the real King's Cross Station from Harry Potter, and the 9 3/4 Platform on my first morning in London. Later that day I took a free walking tour and saw some iconic sights. I saw the tower where Big Ben is, as well as the front of Buckingham Palace. I even saw the changing of the guard in the rain the next morning.
That same morning, I rode the tube (lol) and outside the tube station there was one of the old police boxes that's used as the T.A.R.D.I.S. in Doctor Who, so I geeked out a bit (even though I've only seen a couple episodes). More importantly though, that day was Harry Potter day! I met Layla for breakfast (she's a lifesaver) and I went to Harry Potter Studios. It was amazing, fantastic, great, and just.. yay! The whole solo-trip thing kinda made it less cool since there was no one I knew to share the excitement with, but it was still cool. I walked through the great hall, learned how quidditch was shot, I saw the wands, the train cars, the special effects room, the make-up and costumes, props, sets and of course, Hogwarts itself. It is in a ginormous room built in detail from the little paper plans in the room before. There's a break in the self-guided tour of the studio, and that is where the little cafe is. That is where they sell butterbeer and butterbeer ice cream (super expensive btw). I had to try it. So I did. I bought myself a cup and I tried it. The white stuff on top was really good, but the actual butterbeer was not great, I honestly only finished half of it before tossing it. The rest of the tour was cool, I bought myself a souvenir and went on the bus back. They played Harry Potter and the Sorcerer's Stone on the double-decker so that was nice. I got back to London at 7pm, and went back to my hostel to prepare for bed.
The next day, I stayed in and avoided the rain until I absolutely had to go out. I had a ticket to go on the overpriced London Eye. If I was gonna complete the bucket list item (sorry Lilly), I was gonna do it in London with a great view. Its a 30 minute cycle, I rarely got up from the bench in the middle of the big bubble I was in. I was scared, but I did it. No need to do it again.
Last but not least, I took yet another weekend trip 2 weeks later to islands off the coast of Africa with Layla. We went to las Islas Canarias (Spanish territory) that I mentioned earlier. We were supposed to scubadive, but we tried to sign up way too late. Next best thing: take a surf lesson. It was the most Califlornia-ish thing I'd tried all semester, and I was really glad. The island of Lanzarote was small, and it reminded my of home. The capital city was a lot like LA to me, which was a really nice vacation from being in Europe. The apartment we rented was great, it was in a strangely British area, which made it feel more like home with all the English speaking. It was a relaxing 3 days, so we had to be a little adventurous too. The day before we left we were picked up and driven to Famara beach, given wetsuits (extremely uncomfortable to get on btw) and surfboards. It was a five-hour lesson. We were taught things, then put them into action in the water, and came back multiple times. I have to say, surfing is pretty hard, and it requires a lot of upper-body strength (which I lack). Layla's and my arms were sore the next two days, but it was still a really cool experience.